Modular and prefabricated construction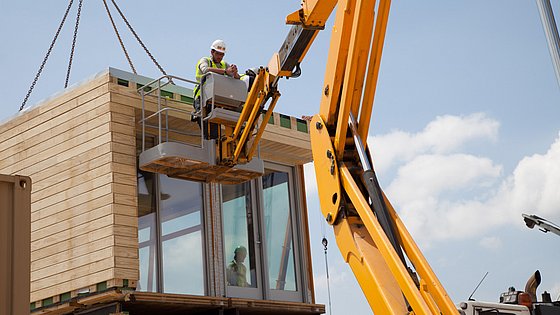 In the construction sector, prefabricated and modular building methods have become increasingly important in recent years. The degree of prefabrication of buildings is increasing and more work steps are being shifted from the construction site to the production hall. In residential construction, multi-storey buildings are increasingly being planned with timber and assembled on site in the form of room modules or flat elements with short construction times.
The European edition of the competition, the Solar Decathlon Europe (SDE), provides the thematic framework for a cross-sectional analysis. A total of 65 houses built between 2010 and 2019 was evaluated. The projects are examined to find out which prefabrication strategies were used by the teams. The main question is whether there have been particularly innovative solutions in the past editions, for example in the connection of the modules or elements or in the rapid assembly of the SDE houses on site.
The success of the teams shows that it is worth while to invest a lot of time and energy in planning and serial production. In the best projects, one can see a high quality in the engineering work, but also a close coordination with the consulting specialists from timber construction companies or the building industry. With the extremely tight schedule on site, this approach seems inevitable. In terms of construction logistics and execution, the Solar Decathlon is certainly the Formula 1 of the construction industry. Comparable to the pit stop of a racing car, at the SDE you can see immediately, like under aburning glass, which strategy is successful and which is not.
For years, many teams have been taking part in Solar Decathlon competitions and some of them have continued to optimise their design strategies. The degree of professionalism is increasing and the knowledge and network of partners involved is growing. The success continues despite the fact that new generations of students are taking part in the competition.